As the plane began its descent into Hong Kong I realised that, due to Guy Le Tatooer's aversion to Australian soil, I was developing a habit of travelling to South East Asian countries for him to brutalise me. Two Christmases ago I found myself in Bangkok where, for a total of 13 hours divided between three sessions over 10 days, he arduously inscribed an epic Mahakala into my back. The country was under military rule yet the junta managed to keep up appearances as an undisturbed, peaceful tourist haven. During that trip I found time to chat with the owner of Six Fathoms Deep, Nicholas Mudskipper, where Guy was a guest artist, to discuss the vagaries of tattooing under marshal law. Now, stowing away my tray table, I was landing in the most densely populated city in the world, a region formally under British rule for 150 years until when in 1997 it became Hong Kong Special Administrative Region of the People's Republic of China, an autonomous region of communist China.
 

I didn't know much about Hong Kong ('fragrant harbour') except that, geographically speaking, it was divided into three parts: Hong Kong Island, Kowloon Peninsula, and the New Territories. My hotel was situated in Mong Kok, an area in southern Kowloon, the district encompassing the northern part of Hong Kong known for street markets and inexpensive eateries. With over 2.1 million people living in an area of less than 47 square kilometres it was also one of the most densely populated spaces in the world. Although Hong Kong has been going through an accelerated process of modernization the 'Kowloon side', as it's often referred to, retains much of its old world charm. It was also home to Mei Wah, the studio Guy Le Tatooer was guesting.
Owned by Nic Tse, Mei Wah is an unassuming space reached through the inconspicuous street entrance by climbing six sets of narrow concrete stairs. Upon entering, one of the first things I espied was a huge bit of plastic leaning against the hallway wall. It was a shopfront sign reading: "Ricky Tattoo." I had become familiar Ricky Luder's story from reading Bugsy and Adam Lockman's book, Ricky Luder Licensed Tattoo Artist. In it, the authors had asked the pioneering Australian tattooist to explain his eponymous Hong Kong tattoo parlour:
"That was Ricky's right above Pinky's. That's because Pinky's had a hepatitis scare and the American navy had banned them from going there, so he just opened upstairs and called it Ricky's. It was two shops but it was the same. They just liked names that had that "icky" sound and I just happened to be there at the right time."
Ricky Luder went on to explain the importance of Hong Kong as a stop for tattooing during the sixties,
"…in its heyday in was full on. Pinky Yun's shop was up there. For Australians it was called R & R, the Yanks called it Liberty. They would get taken out of the jungle for a week or so then they would all get tattooed up, pissed up and get a girl then they would get shipped back off to the jungle."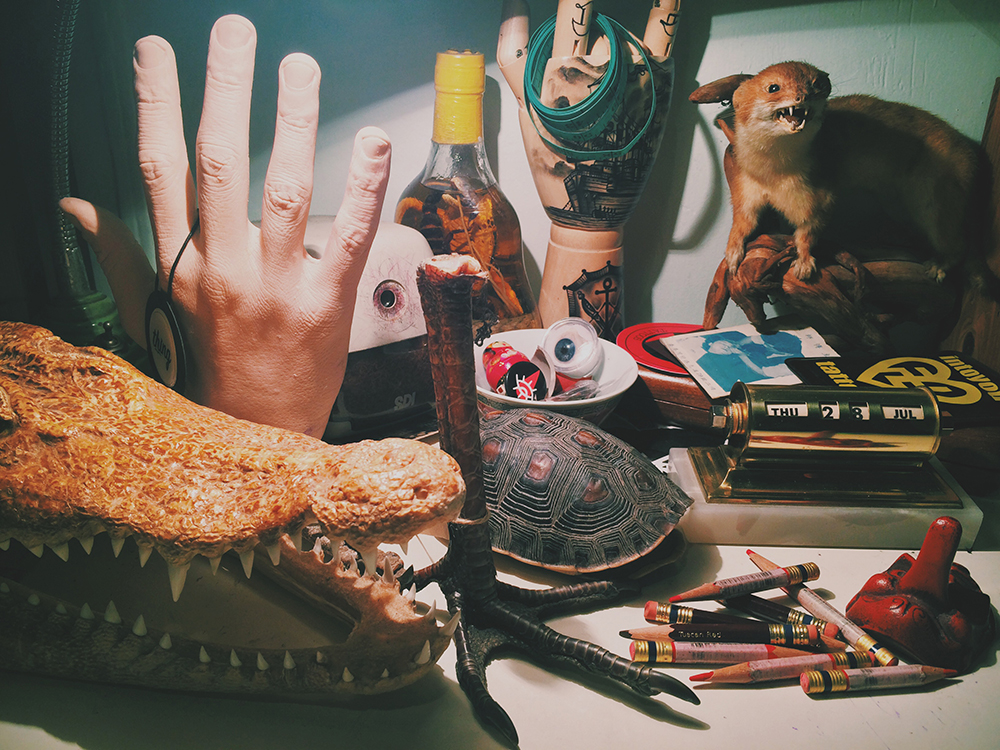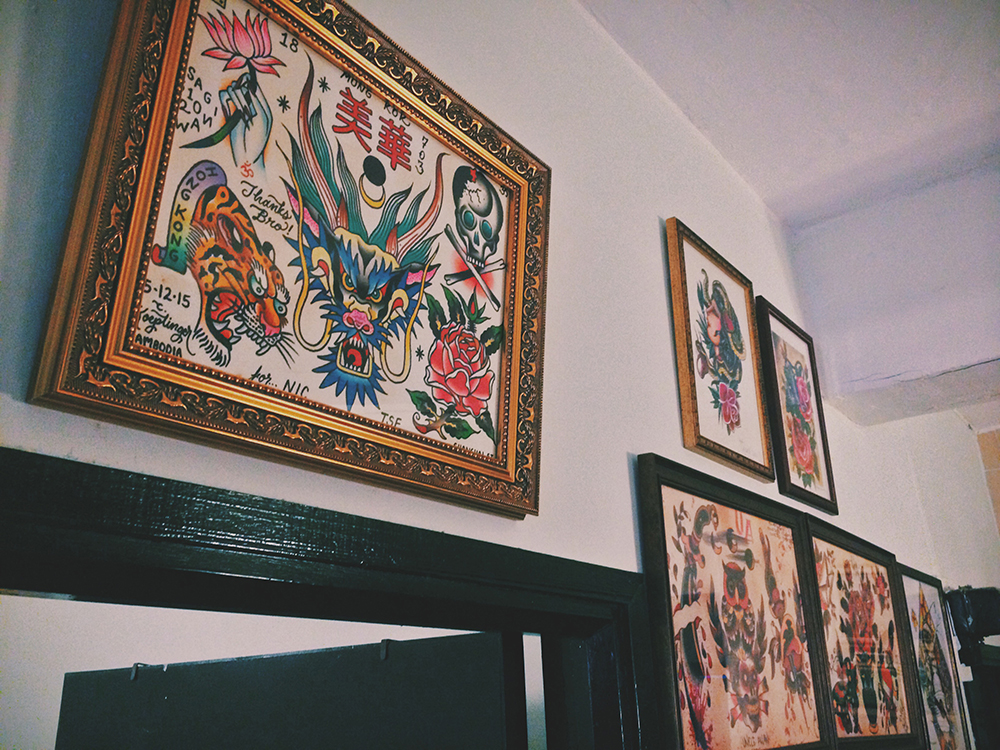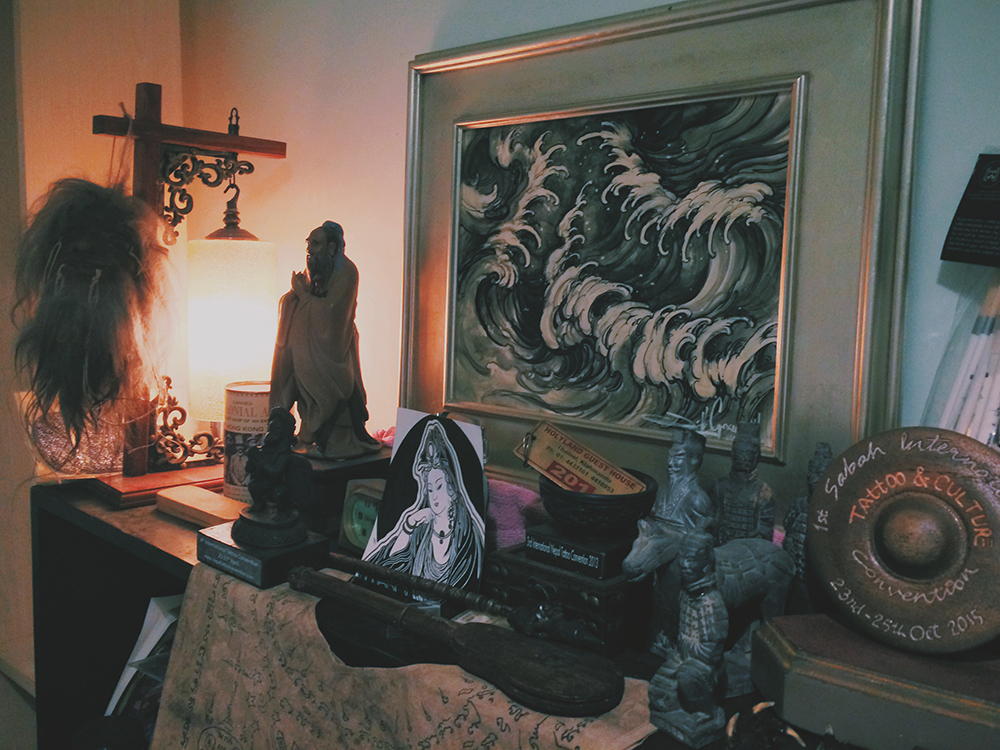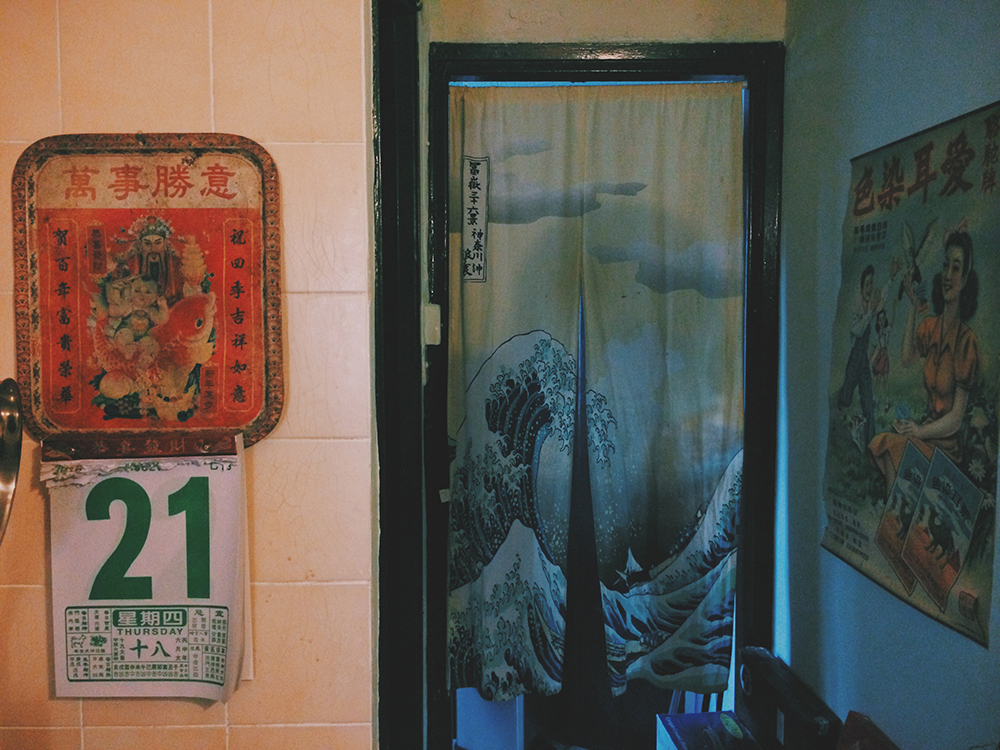 Nic Tse had rescued this artefact of Australian tattoo history. He tells me that Ricky's shop was an institution in Hong Kong's red light district of Wan Chai but that last year it fell victim to property developers. He went on to admit that although he's not an authority on local tattoo lore, the commonly accepted historical account is, "James Ho opened up the very first shop in HK - Rose Tattoo - a year or two after WW2. Thanks to HK being a naval port for US troops during the Korean and Vietnam Wars, his tattoo business thrived. To meet the huge demand, he took on four apprentices, namely Ricky Lo, Pinky Yun, Benny Tsoi and Swallow. Pinky moved to the States in '72, became a legend in his own right, and is highly respected by American tattooers rooted in traditional works. Benny still has a shop in Kowloon, although I believe it's run by one of his apprentices. His daughter also tattoos and has her own shop set up close by. The entire interior of Swallow's decrepit studio got salvaged by photographer/tattoo memorabilia collector Chris Wroblewski, and I heard it's been recreated somewhere in Europe. James son Jimmy Ho also joined the business in the late 60s while still a teenager, and is still tattooing in Mong Kok."
Nic also mentioned that during this era tattoos were generally associated with triad gangs, "it was extremely uncommon for someone not from this kind of background to get a tattoo. And so the shops relied heavily on foreign servicemen and local gangsters for business. By the 80s, there was a steady decline in business, and so some of the tattooists resorted to cosmetic tattooing, e.g. eyebrows. It wasn't until the last decade or so, when a new generation of shops opened up, offering more "modern" styles of tattooing, i.e. designs that weren't solely dragons and phoenixes, as well as reality TV shows, that tattooing finally caught the interest of the general public, that it's finally becoming a lot more common place and accepted by society."
Excited to be in the presence of Australian tattoo history in a foreign and beguiling city, I cajoled Nic, an HK native, into discussing Hong Kong's rich and vibrant tattoo history with me.
So firstly, tell me about your journey becoming a tattooist and owning Mei Wah Tattoo Studio in Kowloon, Hong Kong.
I'm definitely a late bloomer. I didn't get my first tattoo until the age of 30, but soon after I became good friends with Leon Lam, a tattooist of French/Vietnamese descent who had been traveling around China for over three years, and was staying in Hong Kong indefinitely. I was encouraged by both him and YZ, the artist from Beijing who was working on my sleeve at the time, to give it a go. So it started off more as a reflection of my love for tattooing… the history, the craft, the art, etc. I found myself enjoying the process immensely, but since I'd just got married at the time, I needed to maintain a stable source of income. And so I continued being a teacher during the day, and would tattoo in the evenings and on weekends. After a couple of years, I managed to have enough clients to justify switching over to part-time teaching, part-time tattooing. This definitely made things easier as far as being able to devote more time and energy to the craft. Finally about four years in, things seemed stable enough for me to take the plunge and do it full time.
In Chinese, "Mei" means beautiful" and "Wah" could mean elegant, illustrious, flowery, and pertaining to Chinese culture, which is what I aim to achieve with my tattoos.
I've been tattooing under the "Mei Wah Tattoo" banner in some shape or form since 2010. It is a tribute to my grandfather, who worked as a barber and owned a barbershop with the same name. I'm also a huge vintage/antique nut, and the name "Mei Wah" invokes the post-war era of Hong Kong that my father grew up in. It's not at all uncommon to find "Mei Wah Tailor", "Mei Wah Cafe", etc.
Location-wise, I've opened my studios within the Kowloon (meaning Nine Dragon) area of Hong Kong, which to me is the real heart of the city, away from the glitz and glamour. And in keeping with my celebration of all things vintage, I have always set up my studio within a traditional walk-up, i.e. stairs only, building, reflective of the residential architecture of the 60s.
I've worked with different people over the years, but for the most part it's just been myself. It definitely makes the learning/growing process slower, but I've just found it easier to work on my own as far as being able to take the studio in the direction that my vision dictates. But since 2012 I've made a conscious effort of having tattooers from different parts of the world come over and do a guest spot with me. Most of these stem from relationships formed at international conventions that I attend throughout the year, so it's only about half the year where I'm truly working alone. Regulars include Fru Duva, Guy le Tatooer, Alvin Chong, Chad Koeplinger and Ed Perdomo.
You mention the architecture, location, studio name, all with an air of nostalgia, or a desire to preserve the traditional elements of Hong Kong, your 'celebration of all things vintage.' I got the vibe from my short time in Hong Kong that the heart of the city hasn't changed for decades yet it appears to be a modern metropolis. For instance, builders using bamboo scaffolding around high-rises, as though the population refuse to be completely swept up by the swift pace of modernization. Do you feel that you want your studio to reflect this juxtaposition of old and new that is so innately Hong Kong?
Hong Kong's been in hyperactive pace of development since WW2, thanks in part to the huge influx of Chinese immigrants after Mao's Communist Party seized power, and also the manufacturing industry boom of the 60s/70s. Along with it being a free port since the British ran the show, as well as relative political stability, all the right ingredients were in place for rapid growth. So it became a modern metropolis over a fairly short period of time, which means that unfortunately a fair amount of the old has been lost, compared to neighbouring cities, e.g. Singapore and Kuala Lumpur, which didn't really take off until preservation and revitalization became "trendy" aspects of urban development. In that respect, people are desperately clinging on to the little that's left of a traditional/cultural identity. This sense of nostalgia may also be contributed due to the term "mainlandarization", a common fear shared amongst locals that China is transforming HK into just another Chinese city. So while something like the bamboo scaffolding may serve a practical purpose, I do feel that a significant of the population is appreciative of this traditional method, since seeing them adorn the facade of a building is a distinct characteristic of HK's urban landscape.
In a similar respect, I feel that this kind of thinking naturally lends itself to the way I try to set up my studio (as well as my tattooing style - although I'm still in the early stages of exploration), to reflect not just this juxtaposition of old and new, but also of the East and West (with Hong Kong having been a British colony for over 150 years).
I heard something on the tourism channel in my hotel to the likes of "Hong Kong is usually about 20 years behind in fashion/culture but it only takes us 5 years to catch up". Is this true of the tattoo industry, as there has clearly been a tattoo renaissance throughout 'western' nations?
My background/identity is primarily that of a musician (spent my 20s touring in bands across the US and Europe - but that's for another interview!), and so at least as far as music is concerned, I can definitely identify with the "20 years behind" statement! Tattooing-wise though, I think the Internet has definitely levelled the playing field, since knowledge is no longer restricted to areas with a stronger tattooing tradition. Both tattooers and collectors from any part of the world can now just open up Instagram and have immediate access to what tattoos were made a few minutes ago. There's definitely been a proliferation of quality work coming out of the scene, compared to when I first became interested and started checking out what was done locally. Seeing all this phenomenal work being done by people young enough to be my children has definitely forced me to step up my game!
I'm also very interested in the difference between the mainland (China) and Hong Kong when it comes to the tattoo industry/culture.
The tattoo industry/culture is definitely more developed within the mainland than in HK. This could in part have to do with the fact that the Cultural Revolution wiped out many traditions, customs, practices, religion, etc. and so modern tattooing within the mainland has had a clean slate to work off of, with no taboos or social stigmas to overcome. Compare this with the aforementioned gangster clientele that people like Pinky and Jimmy depended on, and you have a very different picture. It may also have to do with the mainland having a significantly lower cost of living, which allows many of the young people to live a more carefree existence and be able to devote more easily to their dreams and passions. There may have also been some key players within the mainland to really push tattooing forward. In terms of the level of artistry and techniques, as well as the size of conventions, they're definitely a few years ahead.
Are there many studios in Hong Kong? And is there a community of tattooists?
I haven't taken the time to count, but there must be something in the region of 50-60 studios, which sounds like a lot for a city with a relatively small landmass, but then if you consider the population size, you're talking about at least 100,000 potential clients per studio.
To me the main problem is that not enough studios offer a formal apprenticeship. Couple this with the easy accessibility of tattoo equipment via our neighbour, i.e. China, you end up with way too many scratchers working from home, without any solid understanding of hygiene and cross-contamination, never mind basic tattooing techniques.
I do see a number of "tattoo schools" popping up, or "paid apprenticeships" where the only purpose seems to be for the shop to have an additional source of income, but from what I've heard (both hearsay and directly with some of these "students"), it's more like a gym membership where they can show up when they can, do some drawings, and occasionally get some critiques. Of course there ARE shops that are doing it properly, and those are the places where I try to steer anyone who comes to me for an apprenticeship, but they are definitely far and few in between.
The tattoo community is pretty small, so most of us know one another. We're not necessarily best of friends with everyone, and no doubt drama exists like in anywhere else in the world, but for the most part we are generally on friendly/speaking terms, and can co-exist peacefully, have dinner gatherings from time to time, etc. I must admit I don't hang out with other shops as much as I'd like, but that has more to do with the fact that I have a family, and also a life outside of tattooing. But since I have the fortune of hosting a number of desirable guest artists at my studio throughout the year, I do end up being able to catch up with a fair number of other local tattooers when they come to get tattooed by my guests.
And can you tell me a little bit about the style of tattoos in Hong Kong and how that has evolved into the types of tattoos people are getting now?
I think because of social media, tattoo trends seem to end up being global movements these days. Whatever's popular on Instagram, Pinterest, etc. you'll be sure to see they find their way into the portfolio of local shops too. From my own experience, based mainly on see how my guests do, I'd say the aesthetics of American traditional is very popular, although the subject matter is much more "cute" than what you normally see in Western countries. The past couple of years, the watercolour thing has been pretty popular. Thanks to guests like Guy, Maxwell and Kenji, the black/dotwork genre has definitely gained a lot in popularity, and my guests who do the neo-trad thing always manage to stay busy. I'd say overall, most styles seem to find their own clientele, although local clients seem to stay clear of getting realistic portraits, at least of family members.
Maybe because of HK's tattoo past, and imageries associated with Triad gang members, there is less of an interest in motifs traditionally associated with them, e.g. dragons, phoenixes, etc. So Japanese/oriental tattoos, as a whole aren't too popular with the general public, although there are definitely 2-3 shops that do very well and seem to be busy enough with a focus in those styles.
And also thanks to social media, the tattoo consumer is a lot more informed about what a good tattoo should look like, as well as what the possibilities are. Instagram and Facebook also allows people shopping for a tattoo to check out studio portfolios without needing to physically visit a shop like they may have had to ten years ago, but rather do all the necessary research online before making contact with a potential tattooer. So the way that people go about getting a tattoo, as well as what they want, has changed drastically.
As for myself, I try to look less at tattoos on social media these days, apart from the handful of people I look up to. I hope to continue exploring my heritage and find ways to translate the stories, customs and traditions into tattoo imageries, to find my own voice within the global tattoo community.